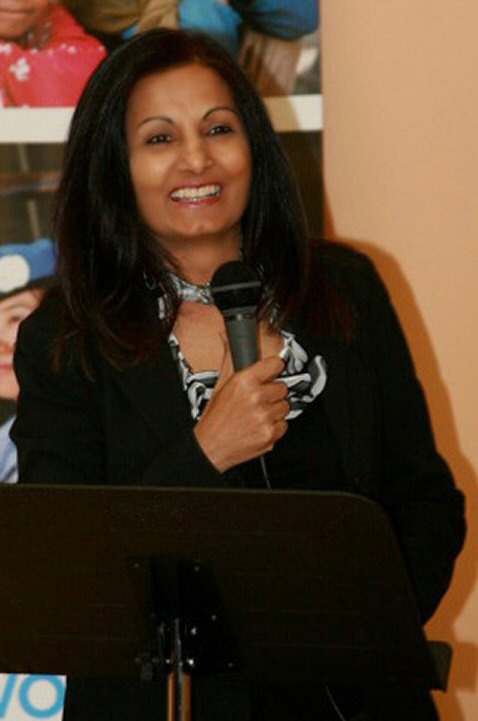 TORONTO, ONTARIO–(Marketwired – March 30, 2016) –
Editor's Note: There is a photo associated with this release.
Almas Jiwani, CEO of Almas Jiwani Foundation will address Master of Business Administration (MBA) Students at Ryerson University, Ted Rogers School of Management on March 31, 2016
Dr. Kim Bates, Director of MBA Programs and Associate Professor of Entrepreneurship and Strategy at the Ryerson University, Ted Rogers School of Management teaches the mandatory MBA course on Management of Technology and Innovation. Almas Jiwani will be speaking to her class for the first time as a member of Ryerson MBA Program Advisory Council on the topics of "Critical Role of Technology & Innovation in the Empowerment of Developing Countries".
"Women play an incredibly crucial role in building the capacity of nations as entrepreneurs, innovators and political leaders." said Almas Jiwani. "Women in the developing countries need to feel the same level of empowerment as women in developed countries. In areas of business, economics and politics, women in developing countries continue to represent a largely untapped potential across the continent. Advances through business innovation can help unlock this potential."
Almas Jiwani is a fiercely vocal and internationally renowned champion for gender equality and women's social, economic, and political empowerment. Ms. Jiwani continues to travel across the globe to deliver keynote addresses, speeches and presentations on improving the status of women. She has addressed over 400 parliamentarians from 42 countries on the benefits of economically empowering women and the roles and responsibilities of parliamentarians at the International Assembly in the Dominican Republic and Quebec City.
ABOUT ALMAS JIWANI FOUNDATION
Empowering women and girls through focused projects that directly address gender equality, education, entrepreneurship, entertainment and energy rights. Through empowering women and girls in targeted areas, AJF hopes to improve societal and economic conditions in the developing world. Projects include providing sustainable energy to provide a better education, better living conditions and to create the environment where women can thrive as entrepreneurs in any region.
ABOUT RYERSON MBA
Ranked 4th on Canadian Business magazine's Top 10 list of national MBA schools in 2013, Ryerson University's MBA program is based on strong academics and practical experience. For more information, visit: Ryerson.ca/mba
To view the photo associated with this release, please visit the following link: http://www.marketwire.com/library/20160330-1048913_800.jpg